---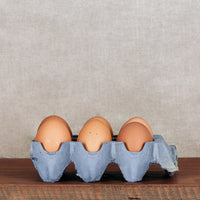 Free range eggs sourced from Shevington Farm in Otaki.  
Product Information
Supplier
Shevington Farm in Otaki. Steve and Kath Gaskell are owners of Shevington Farm and converted to their poultry farm to free-range 12 years ago. 
Country of Origin
Otaki, New Zealand
Packaging
These eggs arrive at Hopper in egg cartons and boxes. The clean cartons and boxes are returned to Shevington Farm for reuse.