---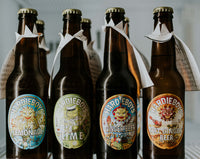 A delicious whole food fermented drink made by Hardieboys Beverages right here in Wellington.
Product Information
Supplier
Hardiboys Beverages 
Country of Origin
Made here in Wellington, New Zealand using only New Zealand produce with giner being the exception (as it does not grow successfully in NZ). 
Packaging
All glass bottles can be returned to Hopper/ Hardieboys for sterilisation and reuse.
*Note, not all flavours are always in shop. If the flavour you ordered is out of stock we will offer you an alternative or a refund.