---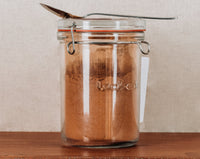 Ground Cassia Cinnamon (from the Cinnamomum cassia tree). 
Cinnamon is a fragrant, sweet and warm spice obtained from the inner bark of the Cinnamomum tree. Most commonly used in cakes and other baked goods, cinnamon is one of the most delicious and healthiest spices on the planet. 

Product Information
Supplier
Davis Trading
Country of Origin
Packaging
Spices at Hopper generally arrive in 1Kg bulk packaging. Slower movers might be ordered in smaller quantities. Faster movers in up to 3Kg bulk packaging.