---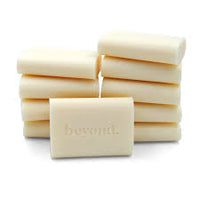 80g package-free soap bars made by Beyond Soap right here in Aotearoa.
These soap bars are luscious, refreshing & full of all the good stuff - made with olive and coconut oil, blended with shea butter and avocado oil. They contain no palm oil, no single-product packaging, no fancy advertising, no petrochemicals and no animal products.

Product Information
Supplier
Beyond Soap
Country of Origin
Made in Clevedon, New Zealand
Packaging
These soaps arrive at Hopper in reuseable cardboard packaging. The are sold individually without any packaging.
Ingredients
Sodium Olivate (Derived From Olive Oil), Sodium Cocoate (Derived From Coconut Oil), Sodium Stearate (Derived From Olives), Water, Glycerin (Derived from Olive and Coconut Oil), Sweet Orange Essential Oil, Sodium Chloride (Salt), Lavender Essential Oil, Peppermint Essential Oil, Shea Butter, Avocado Oil, Tetrasodium Glutamate Diacetate.
Allergens: d-Limonene, Linalool, Coumarin.