---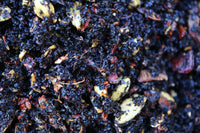 Sticky masala chai loose leaf tea made right here in Wellington by Annabelle, the creator of Spice Dunes Chai.
This sticky masala chai tea is a beautifully aromatic and balanced blend of Ceylon tea, lightly toasted and crushed whole spices, and fresh ginger held together by raw New Zealand honey.
Product Information 
Supplier
Spicy Dunes based in Wellington.
Country of Origin
Packaging
This sticky masala chai tea is delivered to Hopper without the use of any disposable packaging. 
Ingredients
Honey, Ceylon Tea, Ginger, Cinnamon, Cardamon, Star Anise, Fennel, Cloves
Anything Else?
To Brew:
½ cup milk of choice 
½ cup water
1 teaspoon chai mix (more or less, to taste, and depending on milk choice)
Add all ingredients to a small pot
Bring to boil slowly on medium heat, stirring often
Remove from heat, sit for 30 seconds or so
Bring to boil again
Remove from heat, sit for a few minutes to fully soak up all the sweet spicy flavour
Strain and sip away