---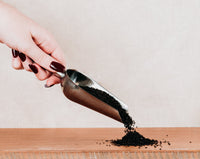 Mister Chai's organic masala chai tea is best described as Traditional Indian 'street chai' - bold, feisty and invigorating. 
A morning chai increases energy and mental alertness. Best served with milk and honey.
Product Information

Supplier
Jess and Tim from Mister Chai in Motueka, New Zealand.

Country of Origin
Packaging
Mister Chai's masala chai tea arrives at Hopper in bulk 2Kg paper packaging.
Ingredients
Fair Trade full-leaf Assam black tea*, Ginger*, Black Pepper*, Cinnamon*, Cardamom*, Cloves*, Fennel*, Mace*. *Certified Organic
Dairy, gluten and sugar-free. Contains caffeine. 
Anything Else?
 Boil 1/2 cup water with 2 slices of fresh ginger
Add 1-2 teaspoons of chai and stir until frothy
Add half a cup of any milk and bring to the boil
Take off heat and steep for 3-5 minutes
Strain and sweeten