---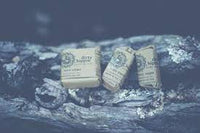 These vegan conditioner bars from Dirty Hippie come in a square shape rather than the usual round soap of their shampoo bars, so theres no way to get them confused. 
Conditioner Bars work very differently from soap bars, most importantly they don't lather and clean, they are creamy and moisturising.
Product Information
Supplier
Dirty Hippie
Country of Origin
Made in Whangarei, New Zealand
Packaging 
These bars come wrapped in compostable paper packing.
Ingredients
BTMS-50 (derived from Rapeseed Oil - includes Behentrimonium Methosulfate, Cetyl Alcohol and Butylene Glycol), Cetyl Alcohol, Apricot Kernal Oil, Organic Cocoa Butter, Organic Shea Butter, Polyquaternium, Provitamin B5, Vitamin E, Naturaguard Ultra (preservative), Sweet Orange Essential Oil.

To Use
After washing hair you stroke the conditioner bar over the hair until it feels silky and conditioned.  Hair should feel similar to the feel of regular conditioner on hair.