---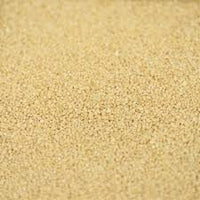 Medium grain couscous
Couscous is a type of pasta that's made from semolina wheat flour and water. The subtle nutty flavor of couscous makes it a versatile ingredient that can be combined with fruits, vegetables and meats to create an excellent main or side dish. Medium grain couscous is one of the most popular couscous types in Morocco.

Product Information
Supplier/ Brand
Davis Trading/ Warda
Country of Origin
 Tunisia
Packaging
This couscous arrives at Hopper in bulk 25Kg packaging.
Ingredients
100% Durum wheat semolina