---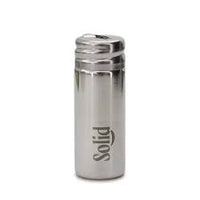 This metal dental floss dispenser, made from stylish and rust-proof stainless steel, comes with a 1 x 30m roll of dental floss. The dental floss is made from PLA (polylactic acid) derived from a renewable resource (corn) and lightly coated in candelilla wax.
The dispenser, made from hygienic stainless steel, is a buy-once item.
Product Information
Supplier
Titahi-based Solid Oral Care founded by a dental therapist and hygienist.
Country of Origin
Designed by Solid and made responsibly by their contractors in Shandong, China and Ningbo, China.
Packaging
N/A