---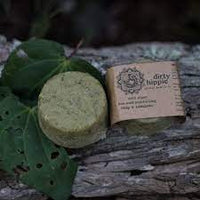 Dirty Hippie shampoo bars are all natural, when you are using the correct bar on your hair you should be able to go longer between washes. 
All bars are Vegan except Calendula Love and Super Moisturising. 
Product Information
Supplier
Dirty Hippie
Country of Origin
Made in Whangarei, New Zealand
Packaging 
These bars come wrapped in compostable paper packing.
Ingredients
Visit the Dirty Hippie website for a list of ingredients for each bar type: 
https://www.dirtyhippie.co.nz/