---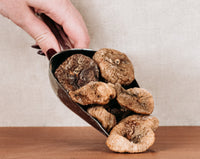 Certified whole dried organic figs.
These dried figs are moist and succulent with a nut-like flavour and golden skin. The glucose which crystallizes out and creates a dull surface with its granules preserves the figs naturally. 
Product Information
Supplier
CERES Organics
Country of Origin
Currently sourced from Turkey
Packaging
These figs arrive at Hopper in bulk 10Kg packaging.