---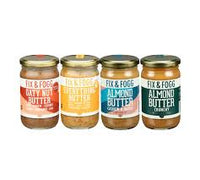 Our very own Wellington based Fix & Fogg are at the 'fairly obsessed' end of the nut butter spectrum. They love to create delicious, innovative and unique nut butters at their Wellington factory. All of their nut butters are golden batch roasted, naturally nutritious, GMO free and vegan friendly with no nasty additives. 
Product Information
Supplier
Fix & Fogg
Country of Origin
Produced in Wellington, New Zealand
Packaging

Fix & Fogg butters come in glass jars which Hopper very happily takes back for reuse in shop.
Ingredients
A list of ingredients for each butter type can be found on the Fix & Fogg Website:
https://fixandfogg.com/
*Note, not all flavours are always available in shop. If the flavour you ordered is out of stock we will offer you an alternative or a refund.