---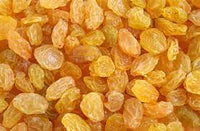 A lighter raisin due to the use of sulphur dioxide in the drying process which prevents their skins from darkening. These raisins tend to be a little moister and plumper than regular raisins. 
Product Information
Supplier
Davis Trading
Country of Origin
Currently sourced from South Africa
Packaging
These raisins arrive at Hopper in bulk 12.5Kg packaging.