---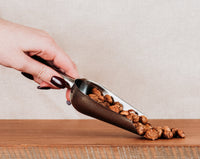 New Zealand grown hazelnuts processed by Hazelz New Zealand in Canterbury. 

Hazelz New Zealand process hazelnuts from over 100 growers in the lower North and South Island. The majority of growers have planted the New Zealand developed "Whiteheart" cultivar tree which grows well in our climate and is free of major pests and diseases. The Whiteheart produces a creamy white coloured nut with a delicious flavour.
Product Information
Supplier 
Hazelz New Zealand
Country of Origin
New Zealand

Packaging
These hazelnuts arrive at Hopper in bulk 15Kg packaging.