---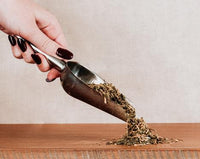 Make a very small cup of sleep tea about 20 minutes before you want to fall asleep. Let it steep while you get ready for bed then drink and allow your body and mind to sink blissfully into the mattress and off to Zzzz. Contains valerian, lemon balm, chamomile, lavender.
Nelson-based Heke Homemade Herbals teas are lovingly created in small batches using only organically grown herbs and teas, New Zealand grown where possible.
Product Information
Supplier
Heke Homemade Herbals
Country of Origin
Created in small batches in Nelson using New Zealand grown herbs and teas where possible. 
Packaging
These teas arrive at Hopper in bulk 250g to 1Kg paper packaging. 
Ingredients
Valerian, Lemon Balm, Chamomile, Lavender
Anything Else?
Valerian can contraindicate with many medications so check with your doctor first.