---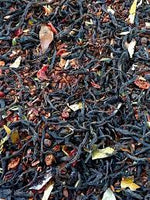 This tea embodies all the toasty warmth and smokiness, the deep comfort and warmth of an open fire. Use a heaped teaspoon per cup and steep 5-10 minutes. Contains lapsang souchong, English breakfast, honeybush, cacao, cloves, star anise, horopito, manuka and peppercorns. Caffeinated. 
Product Information
Supplier
Heke Homemade Herbals
Country of Origin
Created in small batches in Nelson using New Zealand grown herbs and teas where possible. 
Packaging
These teas arrive at Hopper in bulk 250g to 1Kg paper packaging. 
Ingredients
Lapsang Souchong, English Breakfast, Honeybush, Cacao, Cloves, Star Anise, Horopito, Manuka and Peppercorns. Caffeinated.