---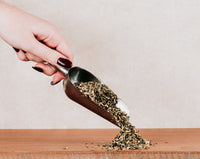 What a way to start the day. This Silver Medal award-winning tea is the herbal answer to coffee! Contains green tea, peppermint, cacao, Siberian Gginseng, yerba mate, horopito. Contains caffeine. 
Nelson-based Heke Homemade Herbals teas are lovingly created in small batches using only organically grown herbs and teas, New Zealand grown where possible.
Product Information
Supplier
Heke Homemade Herbals
Country of Origin
Created in small batches in Nelson using New Zealand grown herbs and teas where possible. 
Packaging
These teas arrive at Hopper in bulk 250g to 1Kg paper packaging. 
Ingredients
Green Tea, Peppermint, Cacao, Siberian Ginseng, Yerba Mate, Horopito
Contains caffeine.