---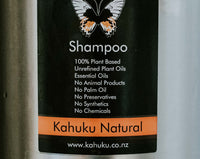 If you aren't a fan of the hard bar, then try our plant based liquid range!

Made from plant originating oils and essential oils, Rosemary Shampoo is a rich creamy liquid shampoo with gorgeous essential oils and base oils to clean, condition and nourish your hair without weighing it down.
The Rosemary blend leaves your hair shiny, smelly gorgeous, and with oils to encourage growth and strength it's a wonderful addition to your hair care regime.
We like rinsing hair afterwards with our Hair Rinse, not essential but adds to the shine and manageability. You can also use a bit of oil, just a tiny drop of Olive Oil will do the trick, rub through hands and through mid-end hair and either comb and rinse through or leave it in.  
250ml = approx 25 washes medium length hair