---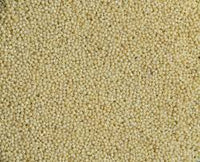 Certified organic, fair-trade hulled millet.
Naturally gluten-free , millet is an ancient seed, originally hailing from Africa and northern China. It remains a staple in the diets of about one third of the world's population. With its nutty, slightly sweet flavour and light, fluffy texture, millet is great in just about anything -soups, salads, sitr-fries, or as accompaniment to main dishes.
Product Information
Supplier
CERES Organics
Country of Origin
Currently sourced from China
Packaging
This millet arrives at Hopper in bulk 25Kg packaging.