---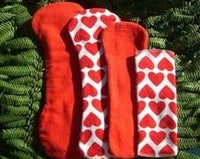 The washable pad / cloth consists of two parts: The inner/liner is removable and absorbent. The outer is a shaped case with domed wings, and has an opening into which the inner/liner is inserted.
The inner/liner contains layers of toweling and fabric (100% cotton winceyette or organic fabric*). This is the absorbent part of the cloth.*this fabric is a blend of 70% Organic Bamboo & 30% Organic Cotton - sourced from Harmless Solutions, New Plymouth 
The outer consists of another two layers of fabric (as above) and is the 'glove' for the inner/liner, it has two wings and a dome to wrap around the gusset of your underwear to secure it in place.
Both the inner/liner and the outer are rounded and contoured to fit your body.
Care instructions are supplied.