---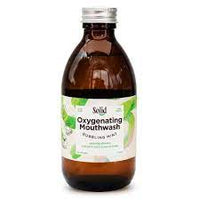 Designed and made in New Zealand, Solid oygenating mouthwash in a glass bottle helps keep gums clean and hygienic. It has a mint flavour with a hint of bubblegum, is vegan and alcohol, cruelty and palm oil free. 
One bottle lasts 50 days.
Product Information
Supplier
Titahi-based Solid Oral Care founded by a dental therapist and hygienist.
Country of Origin
Made in Titahi Bay, New Zealand
Packaging
Glass jars that can be returned to Hopper. Retun any 12 Solid glass jars or bottles and receive one free toothpaste.
Ingredients
Purified water, glycerin, xylitol, hydrogen peroxide (1.5%), polysorbate 20, mint flavour oil, sodium citrate.
Directions for Use

For fresh breath: Hold one capful of mouthwash on top of your tongue for 60 seconds or until you feel bubbling. Spit. Rinse if desired.
To support teeth and gum hygiene: Swish one capful of mouthwash around your teeth and gums for 60 seconds. Spit.
Storage tip: Keep unopened bottles in the fridge to prolong shelf life.