---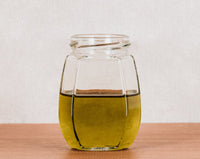 Made from GMO free hemp seed grown on silt and peat soil plains at Ludlow Estate, Ōtāne, Hawkes Bay, New Zealand. Grown without the use of harmful chemicals.
The oil has a fabulous nutty flavour with a smooth texture that holds well with red meats or seafood dishes. It can also be used as a dietary supplement, added to smoothies, salads, or used as a condiment served with various dishes.
Product Information
Supplier
KANAPU Hempery
Country of Origin
The hemp seeds are grown in the Hawkes Bay, New Zealand. 
Packaging
This hemp oil is transported to Hopper in a reuseable drum which is returned for re-use. No disposable packaging is used.