---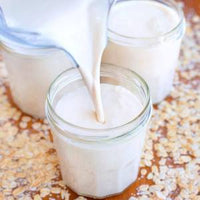 This eco-friendly mylk powder is made with 100% oats with no nasty flavors or preservatives and will fill your body with the essential nutrients it needs so you can live your best everyday.
Just add 1.5 tablespoons Oat Mylk Powder to 250ml of water and BLEND, SHAKE in a jar or FOAM with a steam wand! Combines very easily!
100g makes 1L or more of Oat Mylk. 2 Year shelf life – no refrigeration needed.
Product Information
Supplier
Rotorua based VV Mylk
Country of Origin
Australia
Packaging
This oat mylk powder arrives at Hopper in a reuseable food grade bucket that is returned for refilling.