---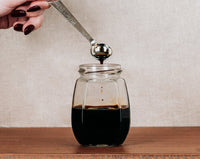 Certified organic tamari soy sauce.
This tamari soy sauce is made with 100% soybeans, naturally fermented for up to 6 months in wooden casks. The traditional fermentation process allows tamari sauce to develop its unique flavour enhancing properties. It is wheat-free and has no MSG or artificial preservatives. 

Product Information
Supplier
CERES Organics
Country of Origin
Currently source from the USA 
Packaging
This tamari soy sauce arrives at Hopper in bulk 10L packaging. 
Ingredients 
Water, Soybeans* 15%, Salt, Alcohol* (derived from Sugar Cane) 1.8% (*Certified Organic)