---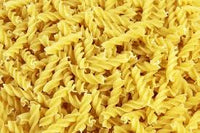 Spiral pasta made from high quality Australian durum wheat. 
The grooves in this spiral pasta help trap the sauce, making for a more flavourful bite.
This pasta cooks in 6 minutes.
Product Information
Supplier/ Brand
Gilmour's/ San Remo
Country of Origin
Australia
Packaging
This pasta arrives at Hopper in bulk 5Kg packaging.
Ingredients
100% Australian durum wheat semolina.