---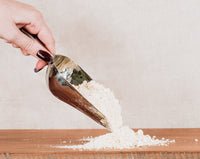 This NZ grown yellow pea flour, made from ground dried split yellow peas, is highly nutritious and naturally gluten-free. 
A great NZ-grown alternative to non NZ-grown chickpea flour, this flour is also a suitable alternative to wheat flour in a variety of sweeet and savoury recipes. 
Product Information
Supplier
Davis Trading
Country of Origin
New Zealand
Packaging
This pea flour arrives at Hopper in bulk 25Kg packaging.