---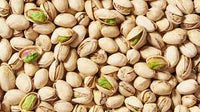 Roasted and salted pistachio nut kernels in shell. 
They're called nuts, but botanically pistachios are seeds. Pistachios are not only tasty and fun to eat but they are also super healthy.
Product Information
Supplier
Davis Trading
Coutnry of Origin
California, USA
Packaging
These pistachios arrive at Hopper in bulk 11.34Kg packaging.