---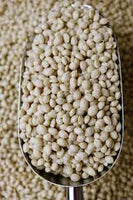 NZ grown quinoa puffs.
These crispy quinoa puffs are a fantastic addition to your homemade muesli or granola, delicious in muesli bars and homemade chocolate clusters, they give an incredible crunch. 
Made from quinoa that is grown spray-free, these quinoa puffs are made through a process called friction cooking. This is a method of extrusion that is unique in that it doesn't break down proteins resulting in a nutritious product packed with protein and fibre. 
Product Information
Supplier
Kiwi Quinoa
Country of Origin
The quinoa is grown across New Zealand, from the Central Plateau to the Canterbury plains. 
Packaging
These quinoa puffs arrive at Hopper in bulk 4Kg packaging. 
Anything Else?
For a great Kiwi Quinoa Chocolate Crispes Recipe: 
https://kiwiquinoa.co.nz/blogs/sweet/kiwi-quinoa-chocolate-crispies