---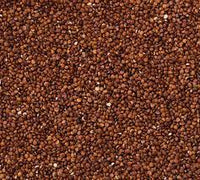 NZ grown red quinoa.
With a bolder flavour than white quinoa and a subtle crunch, this vibrant red quinoa adds a pop of colour to your plate while delivering on protein, fibre and versatility.
Use it in salads, soups, curries or as a replacement to rice or pasta.
Product Information
Supplier
Kiwi Quinoa
Country of Origin
New Zealand
Packaging
This quinoa arrives at Hopper in bulk 25Kg packaging.
Anything Else?
For cooking directions visit: https://kiwiquinoa.co.nz/blogs/quinoa/how-to-cook-kiwi-quinoa