---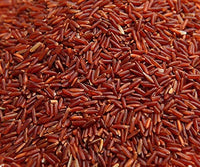 This certified organic, russet-coloured, wholegrain fragrant rice has a lovely nutty flavour, firm texture, and is super easy to prepare. Great in salad and stir-fries, or any dish you would usually use rice.

Mix it with our black and brown long grain rices to create an attactrive medley of red, brown and black rice. 
Product Information
Supplier
CERES Organics
Country of Origin
Thailand
Packaging
This red rice arrives at Hopper in bulk 25Kg packaging.
Anything Else?
To cook: Rinse under running water then drain. Add 2 cups of water to every cup of rice. Bring to the boil in an uncovered pot. With the lid on reduce heat to simmer for 20 minutes. Turn off heat, then let stand for10-15 minutes.