---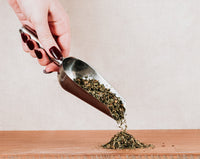 Naturally caffeine-free, peppermint is an invigorating herb that aids digestion and is a natural muscle relaxant. This refreshing tisane is perfect for late morning or afternoon reinvigoration as it can help head off hunger pangs.
Product Information
Supplier
Ritual Tea Company - a family team based on the Kapiti Coast.  Ritual Tea hand blend small batches of organic tea and herbal infusions for people who are looking for a healthy way to relax, recharge and reconnect.
Country of Origin
The certified organic peppermint used for this tea is grown in New Zealand.
Packaging
All Ritual teas arrive at Hopper in paper bags which are returned for reuse.
Ingredients
Organic peppermint