---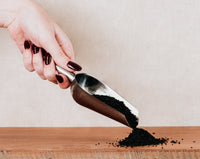 An organic rich, smooth and full-flavoured broken orange pekoe tea with an elegant, invigorating flavour. This perfectly balanced tea is organically grown by small-scale tea farmers in India fully committed to organic and bio-dynamic tea cultivation.
In a world where most of the tea is produced on large plantations where workers receive low wages and endure harsh conditions, this Trade Aid tea supports farmers with higher prices through a more democratic and sustainable tea-growing model.
Product Information
Supplier
Trade Aid
Country of Origin
India
Packaging
This tea arrives at Hopper in a 2Kg Econic compostable bag with compostable label.
Ingredients
Fair Trade Organic Black Loose Leaf Tea