---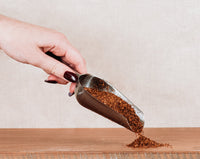 This caffeine-free herbal infusion has a refreshing aroma, sweet honey flavours and a deep orange glow.  Naturally low in tannins, it lacks the bitter aftertaste of some black and green teas.  Sustainably harvested in South Africa, this tea can be enjoyed hot or iced, with milk, honey, or a slice of lemon.
Store in a cool dry place away from sunlight.
Product Information
Supplier
Trade Aid
Country of Origin
South Africa
Packaging
This rooibos tea arrives at Hopper in bulk 1Kg packaging.