---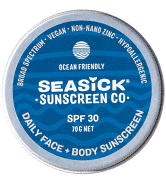 This NZ made gentle formulation delivers broad spectrum 
SPF30
 protection, leaving the skin feeling hydrated and nurtured. The
 formula is lightweight and suitable for daily use. It won't give you chemical induced irritations or sting your eyes. Made with vegan
 fruit wax and packaged in a plastic-free tin. 
Suitable for both face and body

Safe sunscreen for babies and children
SPF 30 broad spectrum certified to the AS/NZS Standard 2604:2021

Water resistant (our sunscreen contains zero water, being oil-based it does not run or wash off when you swim)

Fragrance and preservative free

Soothes dry, irritated skin
Vegan sunscreen
Never tested on animals
Product Information
Wellington based Seasick Sunscreen Co

Made in New Zealand

Butyrospermum Parkii (Shea) Butter, 
Non-nano Zinc Oxide, 
Caprylic/Capric Triglyceride, Candelilla Cera, Cocos Nucifera (Coconut) Oil, Polyglyceryl-2 Dipolyhydroxystearate, Polyglyceryl-3 Diisostearate
To Apply: A little goes a long way! Conventional sunscreens are made with a lot of water however our formula is water-free so goes 2-3 times further. Start with a pea-sized blob and warm it up in your palms before applying. Our sunscreen rubs in clear and doesn't leave you looking white like a ghost. Apply at least every 2 hours, keep out of direct sunlight.