---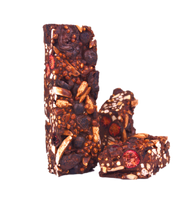 Made in Lyttelton, Christchurch by the She Universe chocolatiers and confiseurs.
These empowerment bars are made with chocolate from Solomon Islands cacao beans activated with maca textured with almonds, blackcurrants, cranberries, seeds and millet & amaranth puffs. They are sweetened with coconut sugar.
Organic, fairtrade, gluten-free, vegan, 40g.
Product Information
Supplier
She Universe
Country of Origin
Packaging
These chocolates arrive at Hopper in cardboard boxes with some paper wrapping.
Ingredients