---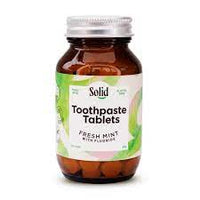 Designed and made in New Zealand, Solid toothpaste tablets with fluoride and coconut oil are a safe, effective and eco-friendly alternative to toothpaste in a plastic tube.
These toothpaste tablets come in a fresh mint and a strawberry flavour. Hopper stocks the fresh mint flavour only, please enquire if you would like the strawberry flavour.
Product Information
Supplier
Titahi-based Solid Oral Care founded by a dental therapist and hygienist.
Country of Origin
Made in Titahi Bay, New Zealand
Packaging
Glass jars that can be returned or refilled at Hopper. Retun any 12 Solid glass jars or bottles and receive one free toothpaste.
The bulk toothpaste tablets arrive at Hopper in clean, reused ice-cream containers with paper lining.
Ingredients
Calcium carbonate, xylitol, acacia gum, sodium bicarbonate, flavour oil, coconut oil, sodium lauroyl sarcosinate, menthol, monk fruit extract; contains 1000ppm fluoride as sodium monofluorophosphate.
Directions for Use

Gently chew into a paste OR press into toothbrush bristles and add a few drops of water. Brush teeth as normal for 2 minutes. Spit. Use morning and night. The unique formulation allows our tablets to transform into toothpaste as soon as they come in contact with water or saliva.