---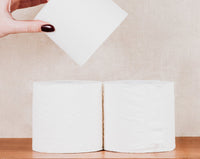 This toilet paper is made from a combination of fast-growing bamboo and recycled sugarcane pulp (a by-product of sugar production). This tree-free two-ply toilet paper uses no plastic, inks or perfumes and comes with no packaging. 
300 perforated sheets per roll, sheet size 11cm x 10cm.
Product Information
Supplier
Greencane Paper
Country of Origin
Made from sugarcane and bamboo grown in rural parts of Southern China. 
Packaging
These toilet rolls arrive at Hopper in a cardboard box of 48. The are sold naked (without any packaging).