---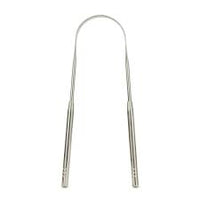 The daily use of a tongue scraper is an effective way to disrupt the odour causing coating of bacteria and food debris at the back of our tongues, a major cause of bad or 'morning' breath.
Solid's metal tongue scraper is is easy to clean and designed to last. Made from hygienic stainless steel, this is a buy-once item.
Product Information
Supplier
Titahi-based Solid Oral Care founded by a dental therapist and hygienist.
Country of Origin
Designed by Solid and made responsibly by their contractors in Shandong, China and Ningbo, China.
Packaging
N/A