---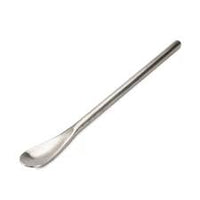 Add a bit of luxury to your oral care routine, and pledge your commitment to plastic free toothpaste. This stainless steel "forever" scoop is the perfect companion to Solid toothpaste jars. 
This is a buy-once product. Guaranteed to never rust or break.
Product Information
Supplier
Titahi-based Solid Oral Care founded by a dental therapist and hygienist.
Country of Origin
Designed by Solid and made responsibly by their contractors in Shandong, China and Ningbo, China.
Packaging
N/A