---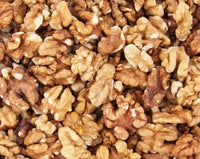 New Zealand-grown walnuts. 
These walnuts come from a co-operative of around 50 walnut grower members, mostly based in Canterbury. While some of the orchards are certified organic all the orchards limit the use of sprays, preferring to prune, feed, water and then let their walnuts grow.
Walnuts are packed with healthy Omega-3 oils, fibre and essential minerals - and absolutely delicious.
Product Information
Supplier
NZ Walnuts/ Trickett's Grove
Country of Origin
New Zealand
Packaging
These walnuts arrive at Hopper in bulk 15Kg packaging.